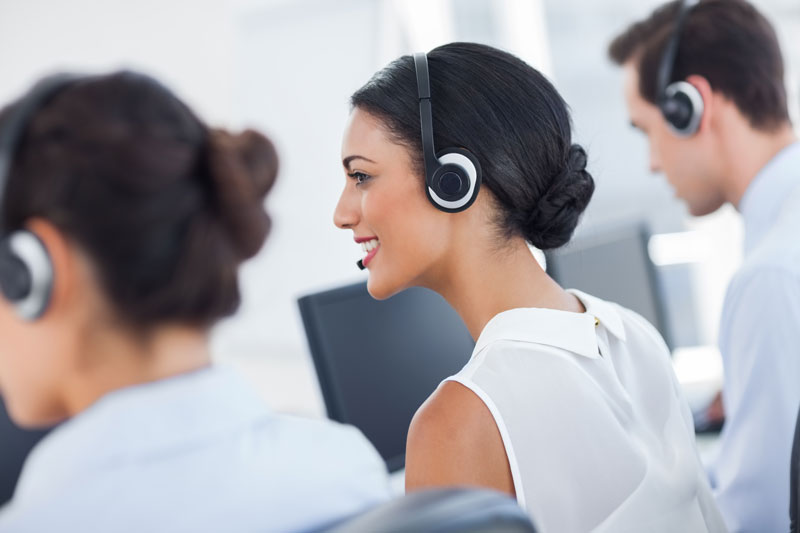 Route Calls from the Cloud
Our platform of products and services helps thousands of businesses achieve greater productivity every day—without requiring costly new phone equipment or changes to business processes. Customers in every industry use our products and services to:
Grow sales using voice broadcasting

Save money by automating business processes

Track success of marketing with real-time call reports

Improve service by enhancing automated customer interactions
Automated Call Solutions
Businesses of any size use DPS' phone automation services to cut costs, generate sales, track results and improve customer service. Here are a few examples:
Route Inbound Phone Calls
If you want a toll-free or local phone number that your customers can call to automatically check on the status of an order using IVR phone menus, with an option to speak to a live person, we do that.
Analyze Call Tracking Data
If you want to view in real-time exactly how many calls that you receive from a direct mailing, radio ad or search engine marketing campaign, and customize how each incoming lead is greeted and routed, we do that.
Deliver Interactive Outbound Calls
If you want to automatically call customers to confirm a scheduled delivery time of a refrigerator, couch or television, with an option to reschedule by speaking with a virtual agent working from home, we do that.
Integrate With Your Database
If you want to automatically call your customers at the completion of online transactions to thank them for their order, ask a few survey questions and post the results back to your CRM, we do that. In summary, DPS automates inbound, outbound and web initiated phone calls to any phone through a suite of pre-built phone applications that are instantly activated, configured easily without any programming and updated in real-time via an easy-to-use website. DPS's services are available to any size business directly, via a network of value-added resellers and developers and through partnerships with telecom carriers and service providers.
Why We're Unique
Complete suite of virtual phone solutions

Instant & easy web-based configuration

Extraordinary customer support

Flexible packages priced for small and medium businesses

A flexible API with off-the-shelf applications for custom integration

Cloud Telephony: No hardware, no software, no contracts, no setup fees
How We Do It: Cloud Telephony
Cloud Telephony from DPS democratizes the world of telephone applications. We utilize a combination of proprietary, licensed best of breed and open source technology to enable businesses of any size to implement enterprise quality IVR solutions without the need for any telephony expertise. DPS delivers automated telephone applications to any phone, any place, anytime and is not limited to dedicated VoIP devices. Unlike a PBX or key system, Cloud Telephony is pay-as-you-go, with minimal capital outlay and no costly maintenance agreements. The responsibilities and risk of ownership associated with a premises-based system simply do not exist.
Voice Broadcasting
Leverage Voice Broadcasting to generate leads, confirm appointments, promote events and relay vital information over the phone. You can also broadcast interactive order status updates, accounts receivable collection calls and phone surveys using outbound IVR functionality.
Key Features of Voice Broadcasting

Complete control to schedule and manage broadcasts
With our self-service voice broadcasting system, you get complete control over when to schedule calls, how quickly to send out messages and when to pause your phone broadcast campaigns.
Outbound IVR (Interactive Voice Response) functionality
Automated phone calls don't need to just be prerecorded voice message. Use outbound IVR to add interactive functionality to your lead generation calls, appointment confirmations and political polls.

Instant access to real-time reports about each call
Why wait to receive reports from an account manager? Access real-time broadcast reports on the web whenever you want.
100% on-time delivery guarantee
When you have a scheduled broadcast, you should expect it to go out on-time. We stand behind our 100% on-time delivery guarantee–or your calls are free.
FTC Telemarketing Sales Rule compliance tools
Our tools provide you with an option to include an opt-out message in your broadcasts, helping you comply with the FTC's Telemarketing Sales Rule.
Auto-detection to deliver an alternate voice mail message
Customize your phone broadcast with two messages: one for when a live person answers the phone, and an alternative message for when the call goes to voice mail.
API for integration with your application, software, or database
Integrate voice broadcasting with your company's software to automate phone calls based on events in your database, or to collect information and pass it back to your database.
Dare to Compare
Our voice broadcasting features are unparalleled in the industry, as is our 100% on-time delivery guarantee. As you search for the best voice broadcasting company for your business needs, we recommend you pay attention to these billing factors:
Does the company charge for calls attempted?
We do not. We charge only for connected calls.
Does the company charge for transfers when a call is connected?
We do not. We only charge for one connection, not two "legs."
Does the company charge extra for reporting?
We do not. Our voice broadcasting includes real-time reporting.
Does the company charge extra by rounding up minutes?
We can offer our high-volume customers 6 second rounding. With 6-second rounding, a 24-second call could cost you as little as 1.8 cents.
Hosted IVR
Hosted IVR enables you to quickly and easily create web-based interactive voice response applications without any programming.
Using Hosted IVR for Your Business
Create automated IVR phone menus to route calls, qualify leads, process orders and more using our interactive voice response software. The DPS Hosted IVR provides a robust, yet easy, IVR solution at an affordable price.
Key Features of Hosted IVR
Instant & easy to set up

In days, hours or even minutes you can create a sophisticated interactive voice response application that normally takes weeks to develop.
Develop an IVR system without programming

Hosted IVR is configured from an easy-to-use website, and can be integrated with any Web development environment. There is no need to hire an IVR developer or learn a proprietary development language.
Online IVR software configuration and real-time updates

By simply filling out a form on a website, you can configure your business's interactive voice response system from the web. Update your IVR in real-time, and build an unlimited number of IVR menus.
Easily integrate IVR with software and web applications

With basic web development skills, you could easily set up an IVR to prompt a customer for their customer ID, post the ID back to your web server and look up your customer's order status.
Call Distributor
Virtual Call Center Distributor makes it easy, fast and affordable for any size businesses to deploy a virtual call center solution.
Using a Virtual Call Center For Your Business
Use Call Distributor to set up a virtual call center so that your staff can easily answer customers' calls at any time from any phone. With the DPS Call Distributor, you'll only pay for minutes, avoiding long-term agreements, big capital expenditures and per-seat fees. Call Distributor includes virtual call center capabilities such as advanced call routing, interactive voice response and call queuing for saving time, reducing costs and creating efficiencies designed to help SMBs thrive.
Key Features
Flexible Call Queuing Options
You have full control to adjust queue size, wait time, music on hold and more.
Answer Calls From Any Phone
Using Call Distributor, agents can answer calls from any phone making it easy to have staff working remotely.
Agent Schedules For Call Routing
You can set schedules for agents, so that calls are only routed to available agents whether they are in the office or working from home.
Manager Dashboard
Our sophisticated dashboard shows details such as agent status, call statistics, calls in queue and supports instant messaging functionality.
Agent Dashboard
Agents can see details about incoming callers via a reverse lookup, CRM integration with Salesforce.com or any other database you wish to integrate with DPS via our API. In addition, agents can enter info about each call into a custom web form on the agent panel.
Virtual Receptionist
Virtual Receptionist is a hosted PBX auto attendant service with intelligent routing that automatically greets & routes phone calls based on your office schedule.
Using Virtual Receptionist For Your Business
Virtual Receptionist gives your company a professional image, saves you time and money by freeing your receptionist from routing calls and improves your customer experience by making sure their calls are greeted and routed correctly whether or not you are in the office.
Key Features of Virtual Receptionist:
Fast, easy web set up

Virtual Receptionist can be set up, configured and updated in just minutes from an easy to use website.
Unlimited extensions

While many companies charge for each extension, the DPS Virtual Receptionist can automatically route calls to an unlimited number of extensions at no extra charge.
Custom audio greeting

Want a custom audio greeting? Try uploading a sound file, recording your message over the phone or using our text-to-speech engine for your virtual receptionist greeting.
Speech recognition functionality

Don't ask callers to press 1 for sales and 2 for support, route calls based on what the caller says just like a live receptionist would. With DPS, you can route callers based on what they say not just based on the buttons they press.
Advanced call routing options

In addition to routing to multiple extensions, the DPS Virtual Receptionist can route calls to a company directory, your Find Me which calls your office, home & cell phone simultaneously, a sales Lead Distributor and more.
Keep your existing phone system

With our hosted solution, you configure your Virtual Receptionist online. You can still use your existing phone equipment and telephony company.
Store Locator
Store Locator makes it easy to automatically route incoming customer phone calls by area code or zip code to your nearest retail location.
Using Store Locator For Your Business
Whether you are a franchise or you lease vanity toll-free numbers, Store Locator is a perfect solution to easily configure a geographic call routing solution. Once you quickly set up your Store Locator, use our call tracking reports to see details about the calls to each location.
Key Features of Store Locator
Georoute calls by area code, zip code, or geocode
Does your company have multiple locations or franchises? Route calls based on area code, zip code or geocode (using a reverse lookup) to the nearest location.
Advertise one phone number for all of your locations
Using Store Locator, you can advertise one phone number for your franchise and route calls to that number to the nearest store. Alternatively, if you own a vanity toll-free number you can lease it to clients in different regions using Store Locator.
Instant set up and easy configuration from the web
Our intuitive customer interface makes it as easy to configure a Store Locator as it is to fill out a form on a website.
Support For Spanish Language Store Locator
Want to make it easy for Spanish speakers to reach you? DPS Store Locator now supports Spanish. Additional fees apply, so call us for details.
Click To Call
DPS' Click-to-Call service makes it easy for website visitors to call you, by connecting your company's website to your customers' phones.
Using A Click-to-Call Service For Your Business
When a customer enters their phone number into your Click-to-Call, both your phone and your customer's phone will ring and you'll be on the phone together.
Click-to-Call turns website clicks into phone calls, by making it simple for customers to 'call me now'. Our Click-to-Call service will help you reduce website abandonment, increase lead conversion and improve online marketing analytics.
Key Features of Click-to-Call
Instant and easy web configuration

In just minutes you can set up a Click-to-Call link for your website.

Advanced phone call routing functionality

Click-to-Call can route callers based on your schedule, or connect callers to any DPS service in addition to just a regular toll-free or local phone number.

Complete call tracking reports about each call

Click-to-Call comes with complete reports about each call, including the referral source and keyword of traffic to your website, the page the web visitor called from, the duration of the call and more.

Insert as a link in a web page, email, PDF, or application

You can easily use a Click-to-Call anywhere you can insert a link, including a website, email, PDF, social network profile and more.

Hidden Click-to-Call For Web Form Lead Generation

Do you ask your website or landing page visitors to submit their contact info into a web form? With Click-to-Call, you can automatically call back customers and prospects as soon as they submit the form.
Customer Surveys
Find out what your customers think by soliciting their ideas and feedback using voice based interactive Customer Surveys. Personalize questions for each market segment using DPS IVR Voice Forms and deliver those surveys via a Click-to-Call on a web site, an inbound Toll-Free Number or even via an outbound Voice Broadcast message.
Business Continuity
What happens to your business if your phone line goes dead? Leverage DPS to create a back-up plan to make sure your customers can contact you until your phone company fixes the problem.
For as little as $50 a month DPS can set you up alternative numbers to route your phone lines to in the case of an emergency.  Don't take the chance on losing your customer or missed revenue opportunities due to an phone outage. These calls can be routed to an international external number and real time reporting is provided.
Call us today at 605-274-0606
Call Routing and Tracking
Call Routing offers your company the flexibility to direct incoming phone calls according to your business needs and office schedule.
Using Call Routing For Your Business
Update routing based on your office hours, set up a virtual call center to distribute leads to remote agents, direct toll-free callers to the nearest store, or prequalify leads before routing the call to your sales team.
The DPS intelligent Call Routing service can be combined with other services in our suite, configured via an easy-to-use web interface and tracked in real-time reports.
Key Features of Call Routing
Route calls by schedule: Time of day, day of week

Looking to route calls by schedule? Using our simple interface, you can easily create custom routing for office hours, lunch, after hours, weekends, holidays and more.

Route calls by percentage: Set up a virtual call center

Set the percentage of calls you want to go to each sales rep. Then, use the real-time manager's dashboard to see how many calls connect to each agent and which agent is in line for the next call.

Route calls by geography: Area code & zip code

Have multiple store locations or franchises? Do you lease out vanity phone numbers to customers in different areas? Seamlessly route calls to a single phone number by area code or zip code to the nearest location.

Route calls by caller ID: Route or screen specific callers

Want to screen calls and create custom routing rules for specific phone numbers? DPS enables you to route calls by caller ID.

Route calls by responses to IVR menus

Need a more advanced solution? Ask callers a series of questions using Interactive Voice Response and route them based on their answers. This option is especially popular for our lead generation and call center customers.
More Services
Phone-Me-Now
Click-to-Call technology that requires ZERO configuration. If you can type your telephone number into a blog, email message, Word document, PowerPoint Presentation, PDF or web page, you can add click to call capabilities to your business with Phone-Me-Now.
Verify-Me-Now
Reduce Credit Card fraud today. Using the DPS Verify-Me-Now solution, you have the ability to reduce fraud by verifying that a customer's telephone number is, in fact, that customer's real phone number.
Voice Mail
DPS Voice Mail gives you the same options you expect with traditional voice mail, plus an extra level of flexibility. You can retrieve your messages from any phone or by listening to them on your computer in an email sent to you as soon as the message is recorded.
Appointment Confirmation
Confirm appointments automatically with DPS Voice Broadcast & IVR features by creating and delivering an outbound message to your clients or prospects. Save time and money on support staff and missed appointments with DPS Appointment Confirmation.
Job & Caller Screening
DPS Job Screening enables you to automatically prescreen future employees just like a global corporation. Save time and money during your busy season or when you land that next large project by using DPS IVR Voice Forms.
Wake Up & Reminder Calls
Stop relying on your handheld or alarm clock. Start depending on DPS Wake Up and Reminder Calls. Schedule unlimited daily call reminders for anytime, view settings from any phone, and receive calls from anywhere using DPS Voice Broadcast technology.
Call Recording
Using DPS, you can record your phone calls using our Find Me, Store Locator, Call Distributor and IVR services.
Webinar Solutions
Webinars give you the ability to broadcast a customized, high quality online event to thousands of global participants simultaneously. Deliver a compelling, high-impact presentation to your targeted audience with robust data collection, branding and ROI tracking capabilities. DPS combines extensive experience with an 'end to end' solution to ensure successful execution of your online event.
Event Management Process
Find out how DPS can make your online event a success.
Customer Relationship Management
Dakota Performance Solutions uses the following CRM solutions for their client's needs such as Salesforce or Zendesk